VIRTUAL EVENT REGISTRATION PAGE
(Registrations close on Sunday 28th August @11:59:59PM AEST and you will be able to update your result until Tuesday 13th September @11:59:59PM AEST)
If you can't come to Falls Creek for the Hoppet this year, the Hoppet can come to you - do it your way VIRTUALLY!
Choose your preferred exercise over a 42km, 21km or 7km route of your choice.  Examples include walking, running, cycling, mountain biking, skiking, roller skiing or even cross country skiing, it's that easy! Please note, the virtual events are not part of the official race results.
Our special gift this year to participants is a sticker/postcard pack that will be mailed to you, no matter where you live in the world. Limited edition technical t. shirts are available for purchase for $32 at the Hoppet Shop during Hoppet week (click here for shop hours)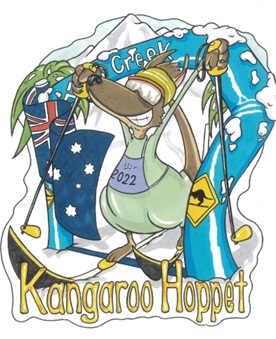 All Entries $15
Payment for this registration will be made via PayPal (with your PayPal account or your credit card) at the end of the registration. (If you wish to pay by credit card, just click the PayPal button and select the "Pay with card" option and  in "PayPal Guest checkout" enter your card numbers.) The payment will appear on your statement as KANGAROOHOP.